Neck Pain in Taguig City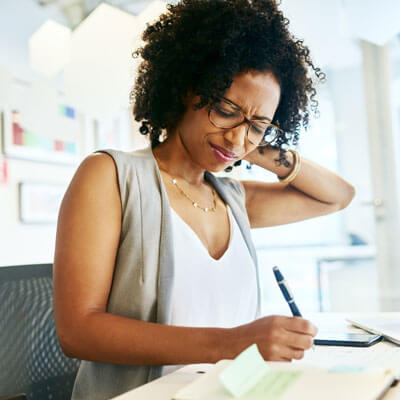 From poor posture when using electronic devices to sitting at a desk for extended periods, neck pain has many causes. Stress can also cause tension in the neck muscles, resulting in discomfort. Additionally, injuries such as whiplash or muscle strains from sudden movements can contribute to neck pain. At Spinal Care Chiropractic, we want to help you get effective and natural relief from your discomfort.
We offer the following approaches to address this common condition:
The Gonstead technique is a highly effective chiropractic method that targets the root cause of neck pain by focusing on spinal misalignments. Through precise adjustments and realignment of the spine, this technique not only alleviates neck pain but also restores optimal nerve function, promoting overall health and wellbeing.
Trigger point therapy is an effective technique to address the root cause of neck pain. By honing in on specific trigger points or "muscle knots" within the soft tissues, our skilled practitioners can alleviate discomfort through targeted massage.
Customized Stretches for Mobility and Strength
We also offer a range of stretching exercises tailored to your individual needs. These stretches are designed to enhance the strength and mobility of your neck, spine, and core muscles, ultimately contributing to long-term relief and improved quality of life.
Personalized Exercise Programs for Postural Control and Stability
Our comprehensive treatment plan also includes various exercises specifically created to promote postural control, stability, and strength. By incorporating these exercises into your daily routine, you can actively work towards reducing neck pain and preventing future issues.
Take the First Step Towards Relief
Don't let neck pain hold you back from enjoying the activities you love. Contact us today to schedule an appointment and begin your journey towards a pain-free life.

Neck Pain Treatment Taguig City, Manila MM | Spinal Care Chiropractic